#1 Camden Market
London's most picturesque neighborhood offers one of the cheapest dining options in its market surrounded by old refurbished stables. You will find food stalls with a wide variety from Oriental, Mexican, Korean, British, Italian, Vegan and freshly made juices, donuts, ice creams and crepes.
Tip: Buy souvenirs in Candem! it is the place of London where you will find them cheaper.
Average price: £5-6
#2 Wetherspoon
It is an English pubs franchise located in many areas of the city center. Here you will find typical food and cheap beer, on weekends they are usually full of people.
We recommend you to try the 'Sunday Roast' and the typical bristish dish 'Fish & Chips'.
Tip: when trying to find them around the city, look carefully because although they are all from the same chain they have different names and signs.
Average price: £7-8 (with siders)
#3 Nando's
It is a porto-South African chain where they make one of the best grilled chicken. You can order them more or less spicy and it comes with very delicious sides like the coleslaw or fries.
Tip: Do not forget to order at the counter!
Average price: £9 (one dish with one side)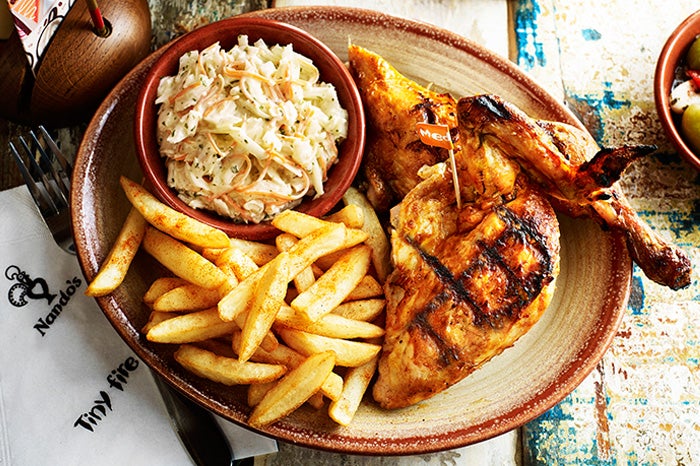 #4 Vapiano
They are Italian restaurants but with great recognition in England. The best thing about this place is the system they use where you can choose the type of pasta you want, the ingredients and the dressings. They prepare it super quick in front of you. They also have pizzas, salads and antipastis.
Tip: ask for bread, is free!
Average price: £7-10 (for a pasta plate)

#5 Byron Hamburgers
British restaurant with American essence with a huge variety of hamburgers. Their motto is 'Proper Hamburgers' which means real and true hamburgers. They are great, big and leaves you more than full.
Tip: Smoky hamburger is the best!
Average price: £9 (hamburger + fries)
#6 Whole Foods

If you like the organic and natural food this is your mecca. It is a large grocery store where they have a hot food buffet and salads. You can choose what you want from the supermarket to take away or eat at one of their tables. They also have detox juices, burritos and freshly made pizzas.
Average price: £7 (one burrito)
#7 Borough Market
One of the largest and oldest food markets in London where you can find British and international food. Here you can try the typical 'pies' stuffed with pork and vegetables. This market is recognized for its gourmet products and the visit itself is already something touristic.
It opens from Monday to Saturday until 17:00 hours.
Average price: £6 ('pork pie')
#8 Jamie's Oliver
From the famous British chef Jamie Oliver there are five restaurants each of them with different themes. The most central are located in Covent Garden, Piccadilly and London Bridge.
Tip: if you can book before do it! they are usually packed especially on weekends at dinner time.
Average price:  £9-10 (one plate)
#9 EAT and Pret a Manger
If you are on a rush and want to eat something healthy and fast these two chains of cafes can be found in every corner of London. They have sandwiches and snacks made in the day, soups, salads, yogurts, snacks and drinks. Also, take away coffees, juices and tea.
Average price: £4-6 (a salad or sandwich)
#10 Wasabi
For sushi lovers, you have many of these restaurants spread throughout the capital offering typical Asian food.
Tip: it is much cheaper if you order take away than eat in, look at their labels since the price is marked.
Average price:  £6-8 (sushi platter)
Recommendations
Ask for 'Tap water'. Tap water in London is potable and free so ask the waiter for it everywhere you go. It is usual to see Londoners asking for it. Otherwise you will get charge for a bottle.
Buy in Tesco o Sainbury's. If you wish to take something on the go or have an afternoon snack in the park, Tesco and Sainbury's are two of the cheapest supermarkets and have an offer called 'Sandwich deal' which includes a sandwich, snack and drink for only £ 3.
'Afternoon Tea'. If you have the time (and money) I recommend you to enjoy the 'afternoon tea' experience, the typical tea served with pastes. Although it is usually expensive it is an experience to have once in a lifetime or for a special ocassion.
Here you have a list filtered by prices and locations.
---
If you like this post, pin it and save it for later! 🙂
---
 Get your 15€ off for your reservation on Booking.com

 Claim your 35€ discount on your first booking on Airbnb

Our favourite Travel Search Engine is Skyscanner you can find economic prices filtered by 'cheapest month' on your flight search